At Kip McGrath Selby we help children aged five and upwards with all levels of Maths and English.
What parents say about us
Kip McGrath prides itself on its success in raising the attainment and improving the progress of students. We embrace feedback as a tool to improve the delivery of our educational solution.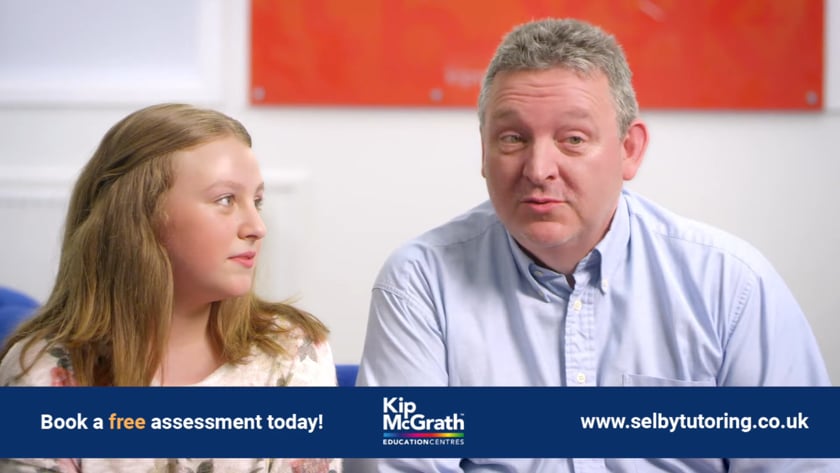 My son started back today after months tutoring online during lockdown (which the generous staff provided free for this period of time as I'm an NHS worker). He was nervous due to social distancing and apprehensive as he hasn't done anything but home schooling and online for months. He came out of his lesson saying that he felt safe and he actually enjoyed it. I cannot recommend this tutor enough; the staff are fantastic.
"The teacher is so friendly, welcoming and above all patient. My son's confidence has increased so much, he is able to deal with trickier subjects without stressing and the daily homework battle is now down to a small negotiation. His attitude towards learning has changed for the better. The current online tutor-based working is fantastic and is so easy to use my 8-year-old has no problems. I recommend them to everyone!"
"Following concerns around my child's confidence and acquisition of basic literacy skills (despite many previous interventions), I approached Kip McGrath initially for a consultation and assessment appointment. I was impressed with the systematic programmes on offer so decided to move forward with weekly sessions. Each session is led by a qualified teacher, with whom I have regular contact to discuss progress and next steps; this is hugely beneficial as it allows me to remain fully involved. A very comprehensive homework programme (built on small steps and over-learning) is put in place following each session to consolidate and maximise learning opportunities. As a teacher myself, I felt that I had a range of resources and strategies at my fingertips to help my child; I however found implementing these strategies after a busy school/workday very challenging and often counterproductive! Following the Kip programme provides me with all the resources that I need ensuring a consistent, progressive system. I know that the approach works as I see it in action; my daughter now presents as a much more confident child who is developing her self-belief that she can do it. To date, she continues to access her weekly Kip sessions with motivation and dedication (unlike previous interventions where motivation has fallen fairly quickly); she recognises the progress that she has made and is proud of these achievements I am absolutely thrilled with her progress and cannot thank the centre staff and her tutor enough. Even through these unprecedented times, my child has continued to access weekly lessons with Kip through their virtual platform; she has very much enjoyed these sessions and continued to build on her achievements. Kip were very quick in their responses to the pandemic and were mindful of missed learning opportunities; they worked extremely hard to ensure that this did not happen, ensuring consistency for the young people that they support. The centre staff are very professional and supportive in their approach; they are always available for advice and guidance. Lessons can be planned to fit in with busy school/work life and cover a range of subjects. Approaching Kip was quite possibly one of the best opportunities that I have given my daughter as I see her continue to grow, flourish and move closer to reaching her full potential."
"My son has been attending tuition session for almost 2 years and he has always found it helpful, during this time his English skills have really developed. When Fred said they were moving online during the COVID-19 lockdown restrictions I was uncertain as to how it would work or what benefit it would have for my child. I am so pleased that we decided to continue with the lessons. Working online once a week with Ruth, who is a fantastic teacher, has quickly become the educational highlight of his week. there really is no substitute for a real teacher, exactly what he is missing during this period. I have been so impressed with Ruth and the centre's capabilities moving online and continuing to provide a wonderful educational relationship that I have also enrolled my daughter for a weekly session so that she too has the benefit of working together with a teacher. Thanks, Kip, for being the constant so needed in my children's educational journey"
Find out how the FREE Assessment works
My daughter has been at Kip McGrath for some time and cannot recommend Alan, Lynn and the team there enough. Diagnosed with dyslexia she lacked confidence and desperately needed support: Kip provided her with this and we have seen her flourish with their help. Their structured and friendly approach has also been invaluable. During CV19 they have done their utmost to continue to support and recent introduction of remote video lessons have proved to be excellent.